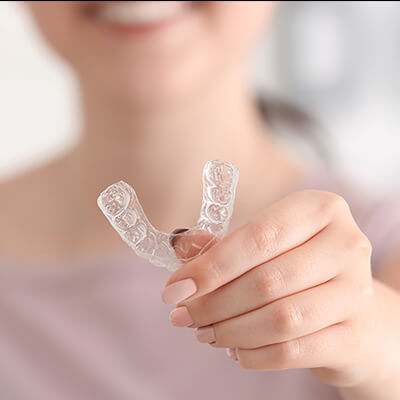 Clenching or grinding the teeth, commonly known as Bruxism, is a very common oral habit that occurs while sleeping. Over a period of time, teeth grinding can cause a lot of damage to your teeth and your overall oral health. A night guard is one of the most common and best solutions to reduce the damage to your teeth due to clenching.
A night guard is a removable device that protects your teeth while you sleep. Your night guard will fit over your teeth to prevent them from grinding against one another. The night guard will also protect you from clenching your teeth, which will help prevent tooth wear and damage. Night guards protect your teeth from wear that may be caused by stress, which is a cause of Bruxism.
Why Do I Need a Night guard?
Your teeth have natural cushioning between your upper and lower teeth, but grinding and clenching remove this protective cushioning. Eventually, this could mean that your teeth are worn down and weakened. Damage from grinding and clenching can also cause receding gums and tooth loss. Damage from gnashing can cause dental erosion, which wears away the enamel of the teeth.
A night guard is a dental appliance that you wear only at night. It helps protect your teeth from damage caused by grinding, clenching, and gnashing.
A night guard fits over your teeth and keeps them from touching while you sleep.
Types of Night Guards
Custom-fitted Night Guards: Custom-fitted night guards are individually designed for your teeth by your dentist. These guards can be especially useful for people who have nighttime teeth grinding habits. Custom-fitted night guards provide extra cushioning for your teeth, protecting them from damage caused by teeth grinding or clenching. They also offer a longer lifespan, better protection from abrasive wear, and the fit prevents any sort of discomfort when you wear it.
Some of the night guards are sold by pharmacies, which are either boil-and-bite or one-size-fits-all types. To use such nightguards, you first need to sterilize them in boiling water. Once it cools off for a short while, you can gently bite it to shape it as per your teeth. Such mouthguards usually do not provide a comfortable fit as they are not customized to match the contour of your teeth. 
A customized night guard offers more protection and comfort than one-size-fits-all types as they are custom-made as per the contours of your mouth.
Night guard - Care
Night guards are custom-fit to help protect your teeth from damage and grinding while you sleep. This protective covering keeps your teeth in place so you can avoid unwanted tooth wear. To clean your night guard, remove and rinse the guard with water. Then brush the guard with a toothbrush and toothpaste. Use a soft-bristled toothbrush to avoid damage to the guard. While it's not necessary to clean a night guard every night before wearing it, cleaning it regularly can help ensure your mouth stays healthy.
Some patients also like to soak their night guard in denture cleaning tablets because they make the guard feel fresher.
Benefits of a Night guard
A night guard is a removable oral appliance that you wear while sleeping to prevent damage to your teeth and jaw. Nightguards, or occlusal guards, are beneficial if you suffer from Bruxism or teeth grinding. Nightguards also help keep teeth aligned properly and can reduce tooth wear and sensitivity. A night guard also offers the following benefits:
Wearing a nightguard provides a good night's sleep as you wouldn't be disturbed due to pain and discomfort.
A night guard protects your teeth from damage by providing a cushioning effect. This cushion acts as a barrier and helps to prevent cracked, worn-down, and chipped teeth.
Night Guards prevent excessive wear of enamel, which avoids tooth sensitivity.
A night guard helps in preventing morning jaw pain and headaches that may be caused due to the act of clenching during the night.
Night guards can also help alleviate jaw pain, headaches, neck pain, and problems related to TMJ."
Questions Answered on This Page
What is a night guard?
Why do I need a night guard?
What are the types of night guards?
How to care for a night guard?
What are the benefits of a night guard?
People Also Ask
Frequently Asked Questions
When do I need a night guard?
A night guard is an oral appliance that fits over your teeth to protect them from clenching and grinding. Many people clench or grind their teeth at night without being aware of it. Grinding your teeth can cause jaw pain and stiffness, as well as wear and tear on your teeth. So, wearing a night guard is beneficial if you face any of these problems. 
How do I care for my night guard?
Night guards should be cleaned regularly. Brushing and rinsing your night guard is important to keep it clean and free from harmful bacteria. After brushing, make sure to rinse it thoroughly with water. Keep your night guard stored in its case when not in use, so it doesn't collect dust or other debris.
When should I replace my night guard?
Typically, night guards last around five years. However, if you tend to grind your teeth, this timeline could be reduced. If you have chipped your night guard, that's a good indicator that it's time to replace it.
How are night guards made?
A night guard is a dental appliance that slips over your teeth at night and replaces your dentures. First, we will take a mold of your teeth. Then, we'll use that mold to craft your night guard. Once it's finished, you can slip it over your teeth at night.
Will insurance cover my night guard?
Most insurance companies will cover a portion of a night guard. If your insurance covers a portion of a night guard or custom mouthguard, we can work with your insurance provider to determine your coverage. We understand how valuable your benefits can be, so we do everything we can to get you the most coverage possible.