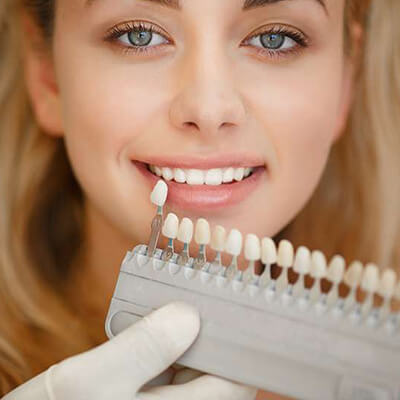 Traditional porcelain veneers are a very effective treatment in concealing several dental deformities. However, they require the removal of some natural tooth enamel. Lumineers are a great alternative for patients who may be hesitant about getting veneers.
Lumineers are a specific type of veneer often referred to as "no-prep" veneers. They are thinner (approximately 0.3 mm in thickness), more affordable, and easier to place on the teeth compared to traditional veneers. They are made up of cerinate feldspathic porcelain and are very strong. Lumineers are custom-made to perfectly match your smile.
How are lumineers placed?
After your initial consultation with your dentist, you need to have at least two appointments for the lumineers procedure. During your first appointment, the dentist needs to take an impression of your teeth. There is no need to trim or prep your teeth, such as in the case of dental crowns or veneers.
The digital impression is sent to a dental laboratory to get your customized lumineers fabricated. Meanwhile, there is no need to place any temporary lumineers on the teeth. During the following consultation, we will place them on the teeth, check for a suitable fit, and bond them permanently using dental adhesives.
Lumineers require similar placement as traditional veneers, except there is typically less tooth preparation involved." 
Application of lumineers in dentistry
Lumineers are thin tooth-shaped pieces of porcelain that bond directly to the front of your teeth. They have become increasingly popular in recent years due to their durability, natural appearance, and versatility. They are an excellent option if you are looking to achieve the appearance of perfectly straight teeth without braces or if your teeth are severely stained or chipped. Lumineers can be used to rectify a variety of dental concerns, including: 
Stained or discolored teeth
Worn-down teeth
Chipped or broken teeth
Poorly aligned teeth
Excessive gaps between teeth
Crooked Teeth
Lumineers are appropriate for patients looking to disguise stains, fractures, and teeth misalignment.
Lumineers - Care
Once your lumineers are placed, it's time to take care of them. Avoid biting your fingernails or chewing ice, as they can cause damage to your lumineers. If you suffer from these types of habits, you should work on breaking them as soon as you can. It is also important to avoid consuming foods with extreme temperatures as hot foods can crack your lumineers, while too cold food can cause your veneers to lose their shape. Brushing your teeth at least twice a day is important to help prevent plaque buildup and maintain the shine of the lumineers.
You should also never skip your dental visits for a cleaning and checkup.
Advantages of Lumineers
Lumineers are thin porcelain veneers that are designed from high-quality dental porcelain. They are crafted to fit your smile for a natural look and appearance. The unique advantage of veneers from Lumineers is their ultra-thin design. They are crafted to about 0.2 millimeters, which is about 20 percent thinner than traditional veneers. This extra-thin design can improve your appearance but also improve your oral health. The major advantages offered by lumineers are as follows:
The entire procedure of applying lumineers to your teeth is completely painless.
Lumineers are sturdy and less prone to cracking. 
Lumineers are the best option for treating discolored and stained teeth. They offer a permanent solution for the most stubborn teeth stains, making your teeth appear perfectly white.
Lumineers improve your teeth' aesthetics, restore the beauty of your smile, and act as a confidence booster.
The investment made in getting lumineers for your teeth offers excellent value for money as they usually last for more than ten years.
Due to the thinness of the lumineers, less enamel removal is required during its application process. This makes the procedure more comfortable, as well as reduces the chair time involved at the dentist.
During the lumineers application procedure, there is no need for enamel removal. If the patient wishes to remove the lumineer and show their natural tooth again, it can be done easily.
Lumineers are more translucent than veneers and hence, are perfect for severely discolored and poorly aligned teeth.
You can have a customized set of lumineers made as per your specific needs, keeping them indistinguishable from the adjoining teeth.
Questions Answered on This Page
What are lumineers?
How are lumineers placed?
Q. Application of lumineers in dentistry
How to care for your lumineers?
What are the advantages of lumineers?
People Also Ask
Frequently Asked Questions
What are Lumineers made of?
Lumineers are a thin, durable type of porcelain that covers the front of your teeth. The lumineer is custom designed in a dental lab to perfectly match the rest of your teeth.
Are Lumineers effective?
Lumineers are an effective option for addressing minor cosmetic concerns. They are made of high-quality dental porcelain that is durable and long-lasting. The porcelain is also stain-resistant. Therefore, patients can enjoy their Lumineers for many years without developing staining or discoloration.
How much are Lumineers?
The cost of Lumineers depends on several factors, including how many teeth you are treating and your overall dental health. If your teeth are especially crooked or misaligned, you may need additional procedures, which can add to the total cost of treatment. In general, the Lumineers cost is between $1000 and $2000 per tooth.
How do I care for Lumineers?
Lumineers are as low-maintenance as traditional braces. You should brush and floss your teeth as normal to prevent plaque buildup. However, you will need to abstain from eating certain foods, such as popcorn, hard candy, and sticky foods.