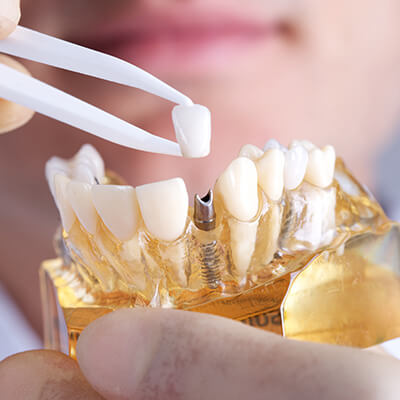 Millions of people around the world suffer tooth loss due to negligent oral hygiene or injury. Luckily dental technology has an excellent treatment option available for them in the form of dental implants. Dental implants are prosthetic tooth roots that provide a foundation for the replacement tooth. It is a form of prosthetic dentistry where a titanium stud replaces the root of a tooth in the jaw bone.
Dental implant surgery is the best alternative when the natural teeth give way and have to be extracted. The majority of dental implants are made of titanium and provide solid support to prosthetic teeth. The jawbone around the implant takes a few months to heal and grow around the implant grooves, providing a success rate of over 95%.
Dental Implants
Dental implants are prosthetic replacements for missing teeth. These prosthetics offer a permanent solution to replace missing teeth. They look and feel like natural teeth, and they are securely anchored to the jaw.
Dental implants consist of a titanium post with a crown placed on top. They are surgically inserted into the patient's jaw bone. Once placed, the implant fuses with the bone and tissue of the jaw through a process called osseointegration. With time, the implant and bone fuse together, making the implant a permanent part of your mouth and a replacement for the lost tooth root. An abutment will be placed on top of the dental implant, and then a crown will be placed on the abutment to act as the natural tooth. 
Implants are considered the gold standard in dentistry as they are the best replacement for natural teeth.
Benefits of Dental Implants
The benefits of implant dentistry are numerous, and this branch of dentistry continues to grow in popularity. It's important to fully understand what implant dentistry is and how it can benefit your oral health. Dental implants are artificial tooth roots that act as anchors (similar to a screw) to hold your replacement teeth in place. This makes them more secure than dentures, bridges, or crowns. It's often difficult to eat, speak, and smile with uncomfortable dentures. Over time, this can cause you to lose your confidence. With dental implants, you won't have to worry about your replacement teeth moving around. In fact, dental implants look, feel, and function just like your natural teeth.
Dental implants also improve your smile. Because dental implants are securely attached to your jawbone, they can help prevent bone loss. This can help prevent premature wrinkles or saggy facial skin. Dental implants also improve your speech. You'll be able to speak more clearly and confidently when you wear your implant-supported replacement teeth.
Dental implants are considered one of the best treatments for missing teeth because they are permanent, stable, and more comfortable than other treatments.
Procedure
A dental implant process involves an individualized treatment plan depending on the patient's needs. A thorough screening process is carried out to determine your candidacy for dental implants. Once confirmed, a titanium root is implanted in the missing tooth's bone socket. The jawbone heals tightly around this implant, which may take a few months. Once it is securely held by the jawbone, an abutment and a small connector post will be fastened to bear the new tooth. The replacement tooth (crown) will be bonded to the abutment, and a bite test will be taken to ensure suitable fit and comfort. Dental implants are highly preferred and used by the majority of patients owing to their long-term benefits.
Dental implants are highly successful. If cared for properly, they can last a lifetime.
Is implant dentistry right for me?
Dental implants are a versatile dental restoration that can address a wide range of dental issues. However, they are considered ideal for patients with a healthy jawbone and good oral hygiene habits. Whether you need to replace a missing tooth, want to anchor a denture, or are struggling with the fit of a bridge, implants may be right for you. Dental implants are essentially artificial tooth roots, and when placed in the jaw, they fuse with the bone. Over time, the bone will heal around the and through the implant to make it a permanent part of the mouth. This means that an implant can support dental restorations, such as crowns and bridges, for years to come.
Implants can also replace a single missing tooth. Dental implants snap securely into the bone, just like a natural tooth root. A dental crown can then be placed on top of the implant to replicate the appearance of a natural tooth. Implants can even be used to support dental appliances. If you are struggling to wear dentures, dental implants can help. The implants will hold the dental appliance securely in place, so you can eat and speak with ease.
Because dental implants are surgically inserted into the jawbone, they can stimulate new bone growth.
Questions Answered on This Page
What are dental implants?
What are the benefits of dental implants?
What is the dental implant placement procedure?
Is implant dentistry right for me?
People Also Ask
Frequently Asked Questions
Q. Are dental implants painful?
The entire procedure is performed under local anesthesia and is designed to help patients relax during the procedure. The dental implant post is made of titanium, which will not cause irritation or allergic reaction in the body. Once the post has fused with the jaw bone, it will be painless.
Q. Are dental implants safe?
Dental implants are a safe option for replacing missing teeth. With proper oral hygiene, you can expect your dental implants to last many years.
Q. How much do dental implants cost?
Pricing varies based on a number of factors. The total cost of your treatment will depend on which types of treatments are performed, how many visits are required, and whether you are paying for your treatment out of pocket or receiving insurance coverage.
Most dental insurance policies will cover some portion of your treatment. Our office will contact your insurance company to determine your coverage. If you don't have dental insurance, we offer financing options and payment plans.
Q. How long do dental implants last?
Dental implants are a permanent restoration. Unlike bridges or dentures, implants are fused directly to the jaw bone. This makes dental implants the most permanent restoration available.
Q. How do I care for my dental implants?
Dental implants are cared for in the same manner as natural teeth. You need to brush twice a day and floss once a day. You should also continue seeing your dentist regularly for cleanings and checkups.