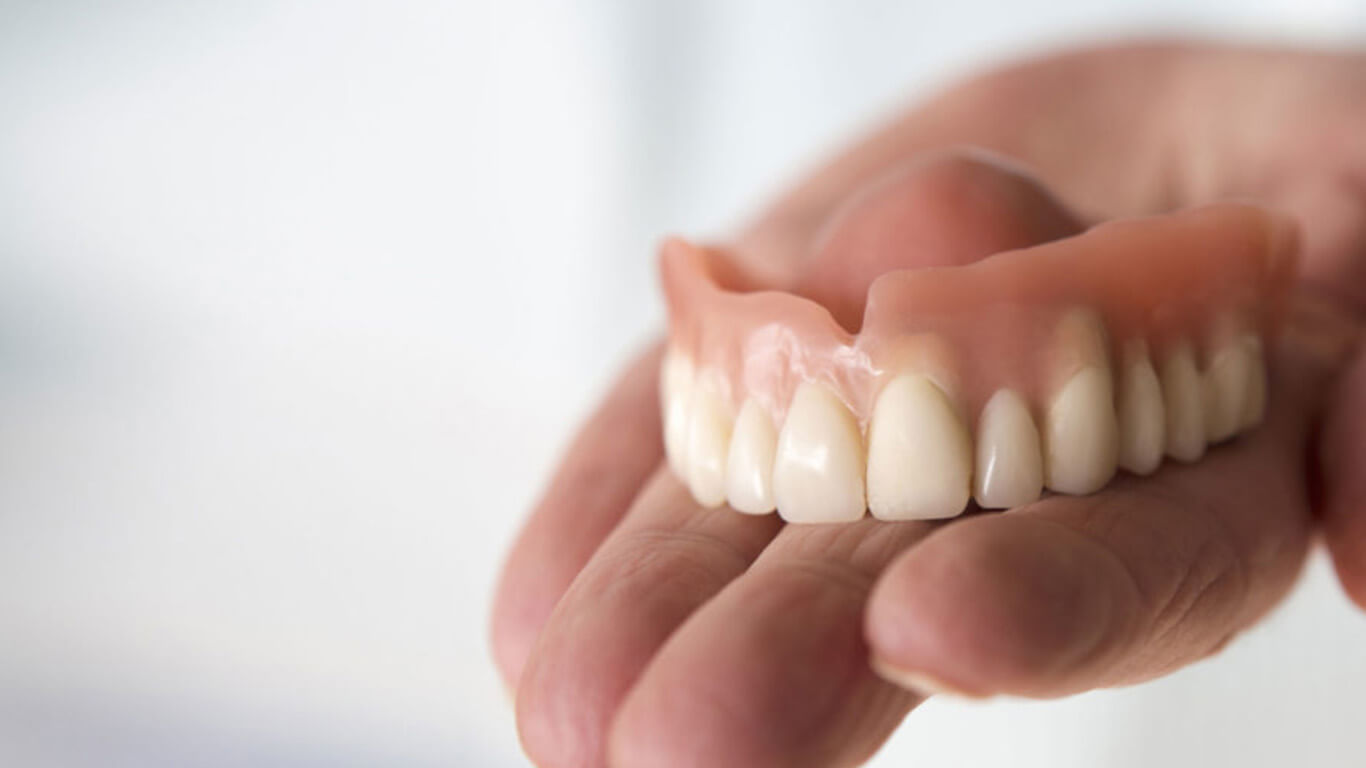 Missing multiple teeth because of events such as accidents, gum disease, decay, aging, etc., not only impacts your facial appearance or oral health but your entire physical well-being. You may not be able to chew food properly, and your ability to speak also gets affected at large. Dentures are a suitable treatment option that replaces missing teeth with prosthetic ones.
Modern dentures provide great aesthetics and functionality and are one of the best tooth restoration options to replace missing teeth. Call West County Smile at (314)576-4462  to set up a consultation to learn more about the dentures provided by our skilled dentists. 
What are Dentures? 
Dentures are artificial teeth and gums that are designed to replace your missing natural teeth. They are removable prosthetic appliances that are created exclusively to enhance oral functionality and appearance. The artificial teeth are affixed to a plate sitting against your gum line or the roof of the mouth. Dentures are removable prostheses that match your existing teeth. Earlier, dentures were made using plastic or porcelain. But with an advancement in technology, dentures are made using other materials as well. Modern dentures are fabricated using hard resin. The prosthetic teeth are made from a dental-grade ceramic material that is highly customizable, strong, and durable.
Dentures are of two types - Conventional dentures and Partial dentures. If you have lost all your teeth in the upper or lower jaw, your dentist will recommend using complete dentures to replace them. Full dentures fit on your top or bottom gum line. An oral adhesive holds such dentures in place. Sometimes, suction is also used to keep them from getting displaced. A partial denture replaces a missing section of teeth with prosthetic ones that are backed by a metal framework. Such a framework remains attached to your existing teeth, which serves as a supportive anchor for partial dentures.
Dentures are made to closely resemble your natural teeth and may even enhance your smile.
 Dentures Vs. Dental Implants
While dental implants are considered the gold standard in tooth replacement, not everyone qualifies for implants. Many patients either lack sufficient bone density or would prefer not to use an implant. This is true for patients who have a history of smoking, diabetes, or other systemic conditions that compromise the health of bone.
Removable dentures, on the other hand, are an excellent option for patients who can't or don't want to undergo dental implant surgery. Removable dentures allow patients to restore the form and function of their smile without having to undergo surgery. Besides, removable dentures are an affordable solution to tooth loss. They can usually be purchased for about half or a third of the cost of dental implants. However, while dentures are more affordable, they are not as permanent as dental implants.
Dentures are one of the most affordable ways to replace missing teeth. A full set of dentures can cost as little as $800." 
How to Clean Dentures? 
While dentures do not require as much care as natural teeth do, it is important to take care of your dentures in order to extend their lifespan and maintain their function. You should brush your dentures every night and brush your gums, tongue, and any remaining teeth twice per day. This will help remove food particles and bacteria. If your dentures have metal clasps, they should be cleaned with your toothbrush as well. When your dentures are removed, soak them in denture cleaner or plain water and wash them thoroughly before putting them back in your mouth.
Just like your natural teeth, dentures, too, require regular cleaning to ensure their durability and hygiene.
Advantages of wearing dentures
Dentures are removable oral appliances designed to look like your natural teeth. When fitted, they cover the roof of your mouth, gums, and tongue. Your dentures may feel a little awkward or uncomfortable for the first few days. This will subside as you get used to wearing them. Some patients may need a few adjustments for their dentures to ensure a better fit in the beginning. After an initial fitting and adjustment, you'll schedule visits for denture relining or rebasing every three to five years to keep the dentures fitting properly.
If you have multiple missing teeth, dentures are the most convenient option to replace them.
Using dentures improves your facial appearance and helps you regain confidence.
Dentures are long-lasting. You are merely required to care for them appropriately by avoiding unhealthy oral habits and cleaning the prostheses regularly.
Dentures are customized according to the shape of your jaw ridges. Thus, they do not look artificial at all.
Dentures are more affordable than other forms of tooth replacement. While dental implants are built to last a lifetime, dentures may be the most affordable solution if you are on a budget.
Questions Answered on This Page
What are Dentures? 
How to Clean Dentures? 
Compare dentures and dental implants
What are the advantages of wearing dentures?
People also ask
Frequently Asked Questions
How are dentures made?
Custom dentures are made after taking impressions of your teeth and gums. The dentures are molded to fit your mouth, and the fit is tested. The next step involves adding any artificial teeth, and any metal components are added for stability.
How are dentures maintained?
Dentures should be brushed and rinsed daily. Natural teeth should also be brushed and flossed. Dentures should be left out at night and rinsed with denture cleaner.
How do dentures work?
Dentures are held in place by gently biting down on a dental adhesive. By biting down, the dentures are secured in place. Patients may notice a slight change in how they feel when they bite down, but over time, they will get used to the feeling. This secure fit helps patients continue living their daily life and participating in their favorite activities.
Are dentures worth it?
If you are missing many or all of your teeth, the dentures will help you to look great, eat normally, and feel good about yourself. Dentures are an excellent choice for people who have lost all their teeth.
How long do dentures last?
While dentures can last for many years, they are not a permanent solution. Over time, the jawbone can shrink, which can cause the dentures to become loose, slip out of place, or even fall out.