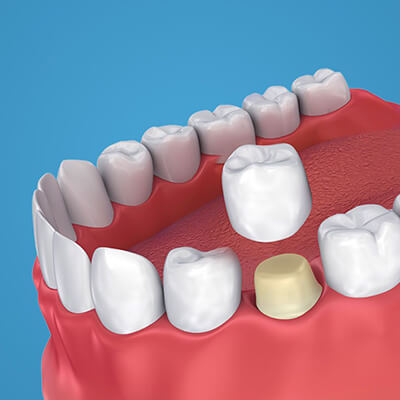 Teeth damage can happen due to various reasons, like oral injury or decay. As a result, the teeth lose their shape or may get chipped. Dental crowns are used to cover and restore tooth contour, size, and strength, improving its appearance and functionality. Crowns don't require any special care and are the best option when fillings don't solve the problem.
Dental crowns are caps or coverings that enclose a damaged tooth. Crowns may be made of ceramic, porcelain, resin, or gold alloys. Crowns are often used to restore a tooth after a large cavity or break, but they are also used to cover teeth that are misshapen or oddly colored. Crowns may also be called by other names, such as dental caps and tooth caps.
When is a dental crown needed?
A dental crown is a restoration that is custom created to fit over the entire tooth. They are often needed when a tooth is fractured, has a large cavity, or has a crack. The crown fits over the entire surface of the tooth, restoring the strength and functionality of damaged teeth and protecting it from further damage. It also provides shape and size to the damaged and decayed teeth, improving the overall appearance of your smile. You may need a dental crown due to various reasons, such as:
To avoid tooth decay
To cover discolored teeth
To reinstate a damaged or broken tooth
To hold a dental bridge in place
To cover a dental implant or a root canal-treated tooth
To offer support to a tooth with a large filling
To make cosmetic dental modifications, like reshaping teeth
Dental crowns are incredibly versatile and can be used to restore anything from a chipped tooth to a tooth that is severely decayed.
How are Dental Crowns Placed?
First Visit: Examining and Preparing the Tooth:
During your first visit to the dentist, we will discuss the best available crown options depending on your bite, gum tissues, and severity of the oral condition. After determining the one for you, your dentist trims down your damaged tooth to make room for the crown to fit in. We will then take an impression of your trimmed tooth, which is sent to a dental lab for your crown preparation. Until then, the dentist may place a temporary crown.
Second Visit: Placement of the Permanent Crown:
During your second visit, the dentist will remove that temporary crown and fit the permanent crown on your damaged tooth. Once its contour and size are confirmed, we will etch the surface of the tooth and prepare it for restoration. Dental adhesives will be used for the bonding process. Now, your damaged tooth with a new crown can function just like a natural tooth.
Crowns are very effective at restoring the look and function of a tooth that has become damaged." 
Types of dental crowns
We make dental crowns for both cosmetic and restorative purposes. The materials used for dental crowns vary. The major three types of crowns are metal crowns(gold, palladium, nickel, or chromium alloy), porcelain fused to metal crowns(PFM), and all-ceramic or all-porcelain crowns. Porcelain dental crowns look and feel natural while also restoring function and strength to the teeth. These restorations can be made to cover the entire tooth or only cover the tooth that is damaged. PFM crowns are composed of a stainless-steel base and porcelain overlay. The metal base is extremely durable, while the porcelain overlay provides a natural appearance. PFM crowns look very natural and are often used on teeth toward the front of the mouth. Metal crowns are more commonly used with back teeth because they provide the best protection. Metal crowns work best for teeth that need to withstand a lot of force.
The most common materials used to fabricate dental crowns are ceramics and metals.
Caring for dental crowns
Just like regular teeth, bacteria can still build up on your crown. To prolong the lifespan of your dental crown, practice good oral hygiene. Here are some things you can and should do to care for your dental crown and teeth.
Brush regularly using a soft toothbrush:

Be sure to brush gently, and don't apply too much pressure. The toothbrush you use to care for your teeth should fit comfortably into your mouth. Too large of a toothbrush can damage gums and can even irritate the gums and cheeks.

Floss daily:Flossing helps remove plaque and food debris from between your teeth. Plaque and food debris can contribute to gum disease.
Schedule regular dental visits:Dental visits are an important part of dental care. The dentist can check your dental health and let you know if you need any additional treatment.
It does take some care to keep a dental crown in good shape, but it's worth it.
Questions Answered on This Page
When is a dental crown needed?
How are dental crowns placed?
What are the major types of dental crowns?
How to care for dental crowns?
People Also Ask
Frequently Asked Questions
Q. What are the benefits of dental crowns?
Dental crowns can replace a tooth that is decayed, broken, or severely damaged. They are also used in cosmetic dentistry to cover discolored teeth, replace metal fillings, or protect teeth after a root canal. Crowns can also be used with dental bridges to replace one or more missing teeth.
Q. What are dental crowns made of?
Crowns are made of a variety of materials, including porcelain, ceramic, porcelain fused to metal, or full gold. Each material has its own pros and cons, but porcelain is typically used as it most closely resembles the color of your natural teeth.
Q. How long does it take to get a dental crown?
A dental crown restoration will require two appointments at your dentist's office. 
Q. How long will a dental crown last?
A dental crown can last up to 15 years if properly cared for. However, each individual case is different.