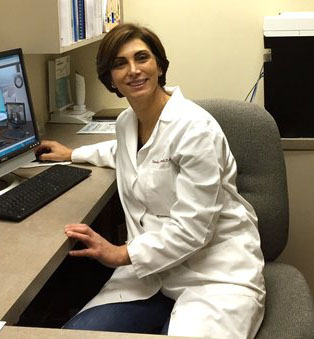 Randa Hawatmeh, D.M.D.
Dr. Randa Hawatmeh has been serving the Saint Louis Community Smiles since 1993. Dr. Hawatmeh graduated at the top of her class from Washington University School of Dentistry in 1990. As an active mother of four daughters and wife, she established her first private practice in South City, where she served for 16 years before re-locating to West County, and specifically Chesterfield in 2009.
While she is dedicated to the newest advancements, Dr. Hawatmeh keeps and lives the traditional pillars of dentistry. The friendly atmosphere of Dr. Hawatmeh's office keeps her family practice growing, treating patients of every age by offering the special traditional patient-doctor relationship. She is recognized for her diligence and excellence in the field of dentistry not only in Saint Louis but nationwide. Dr. Hawatmeh is honored to be a member of Women of Distinction. She believes in education and empowerment in your healthcare for you and your families. Dr. Hawatmeh believes that health education starts with the mother of the household teaching their children and families on best practices. Your mouth is your greatest asset, and we can share how to take care of it all of your life, before it becomes an emergency! We want to be your resource.
Dr. Hawatmeh regularly attends seminars nationally on topics spanning from the exciting and expanding field of cosmetic dentistry (i.e. implants, Lumineers®) to the latest treatments in oral healthcare (ie oral cancer, radiology). Her philanthropy proves her personal dedication to improving people's dental health, which she believes to be the greatest part of their overall well being. Her Pro bono work includes working with handicapped and underprivileged patients at Incarnate Word Hospital and Saint Alexis Hospital.